Trauma On Our Morning Walk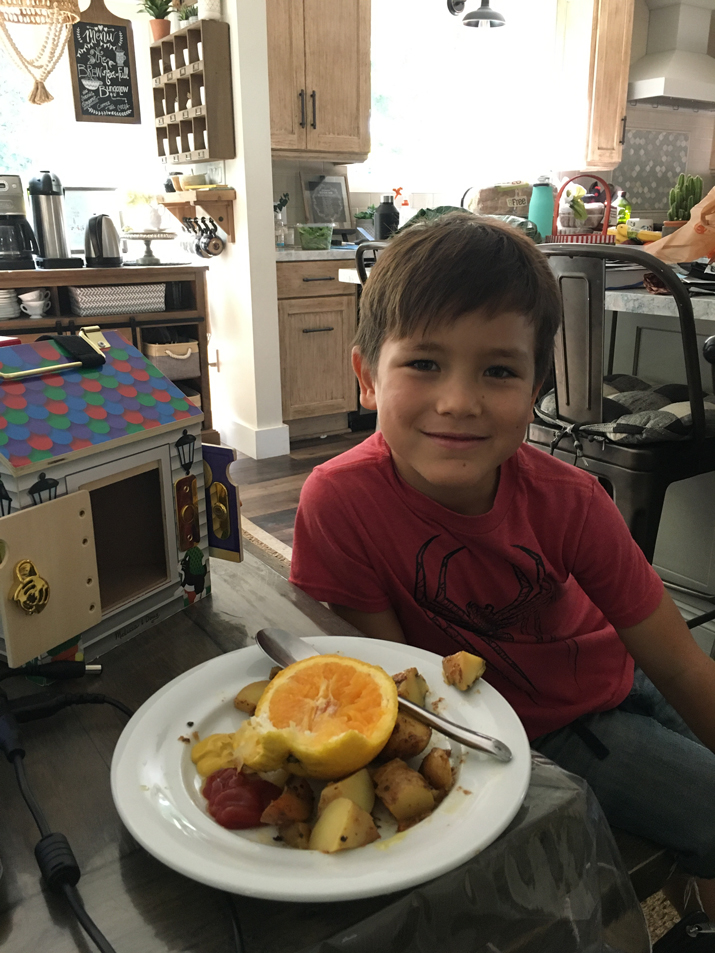 I took my four youngest kids on a walk this morning.
During the walk, my 9-year-old decided to carry my 2-year-old. While he was carrying her, he decided to start running with her to catch up with his siblings…not good.
He tripped on a crack in the sidewalk and landed on his little sister.
If you are a parent reading this, nothing can be more frustrating than when one of your kids does something foolish on your watch.
You are always kicking yourself afterwards saying, "I should have been more attentive to what was going on!"
Anyway, as soon as she fell, I ran over and picked her up, checked her head and started clearing the area of trauma in the neck and head.
She seemed to respond quickly, and all was fine.
About an hour after we got home from the walk, my wife noticed that she had a deep blue bruise on her lower back.
I initially thought she landed on her head, but she actually landed on her back.
When I adjusted her lower back, you should have heard the 'pop' from her 5th lumbar being kicked out of place from the fall.
After her adjustment, I cleared out the adhesive scar tissue that was forming so it would heal properly and then performed some laser in the area.
She tested fine after all that was done and now it can heal not only more efficiently, but most importantly, properly.
Yesterday, I had a new patient who injured his lower back while lifting a weight tree. His lower back was so severe that I thought he might have herniated the disc in his lower back, which can be very serious depending on the severity of the herniation.
After clearing out the area of trauma with adjustments, therapeutic massage, and laser therapy, he left the office about 85% better.
The reason why he responded so quickly was because he got in the office within 24 hours of the injury.
One of the biggest mistakes I have seen over the past 30 years of working with musculoskeletal injuries is taking the 'wait and see' approach to direct trauma on the body.
Instead of fixing the area of trauma immediately after the accident/injury, some patients wait and wait and wait until the problem gets worse and worse and worse, to the point that the problem is unbearable.
After all the commotion from Kayla's injury passed my youngest son, Jordan, asked me, "Dad, do you want me to make you some potatoe fries and an orange?"
How could I say 'no' to that proposition? He then proceeded to make his old dad a meal (see picture above) and I must say it was delicious!
Nothing like some home-cooked comfort food after a traumatic situation.
However, one thing even better than comfort food after experiencing trauma, is to get that traumatized area fixed with a chiropractic tune-up as soon as it occurs.
It is so much more cost effective and efficient to nip the problem in the bud as soon as it occurs, than procrastinate which leads to more time, money, and problems in the future.
Have a GREAT Thursday!
Dr. Derek 'not on my watch...not' Taylor
310-891-0102
www.drderektaylor.com
PS- Patient Appreciation Day on Monday November 23, 2020. Book an appointment on that day and receive a FREE Turkey with your visit. Send in a loved one and they get an Initial Examination, Report of Findings and Class IV Laser Session all for only $47, plus they get a Free Turkey with their visit as well. Space is limited and we're almost all booked up but we stlll have a few openings available. Call NOW at 310-891-0102 to book your appointment!