Class IV Laser Therapy in Torrance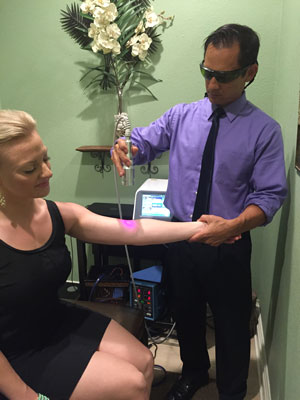 Class IV Laser therapy is a non-invasive technique used to alleviate pain, reduce inflammation and accelerate recovery from a wide range of acute and chronic clinical conditions. This pain relief treatment is FDA cleared and enables patients to have an alternative to drugs and surgery.
Class IV Laser therapy treatments at Taylor Chiropractic & Laser Center last between 5 and 10 minutes depending on the condition being treated. Treatment must be administered directly to skin, as laser light cannot penetrate through layers of clothing. Typically, you will feel a soothing warmth as the therapy is administered.
---
Benefits of Class IV Laser Therapy Treatments:
Reduce inflammation, decrease pain, improve range of motion
Accelerate tissue regeneration
Decrease scar tissue and fibrosis
Accelerate wound healing
Minimize recovery time
Non-invasive
---
Class IV Laser Therapy Commonly Treated Injuries:
Muscle Strains
Sprained ligaments
Stress reactions & fractures
Tendonitis/Synovitis
Open Wounds
Golfers elbow tennis elbows
Back pain
Neck pain
Runners knee
Inflammatory issues
Shoulder impingement
IT band pain
Plantar fasciitis
Rotator cuff injuries
Scar Tissue
OFFICE HOURS
---
Monday
9:00am - 12:00pm
2:00pm - 5:00pm
---
Tuesday
2:00pm - 5:00pm
---
Wednesday
9:00am - 12:00pm
2:00pm - 5:00pm
---
Thursday
2:00pm - 5:00pm
---
Friday
9:00am - 12:00pm
---
Saturday
By Appointment Only