Surprised At The Beach Last Night

Last night after work, I took my two youngest sons surf fishing in Redondo Beach.
The last couple times we went, we struck out every time, but the water temperatures have picked up, so we decided to give it another go.
My two youngest sons, Titus & Jordan, LOVE to fish but they have never caught anything while surf fishing.
I think they weren't expecting it but they both latched on to a fish at the same time.
You should have seen the look of excitement and intensity on their faces and squealing noises they made as they were reeling them in.
Their enthusiasm caught the attention of a group of young people about 30 yards away and it's almost like they knew it was their first fish as they did a surprising thing once the fish were landed...they started clapping and cheering (you can see them in the background in the picture above).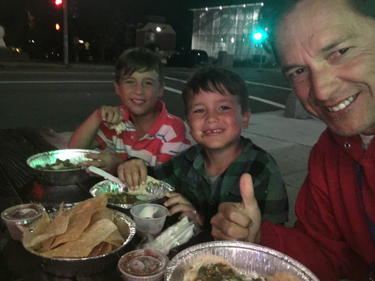 There's a lot of discouraging things going on in the world right now and it's important to keep up with all that is happening; however, it can be discouraging to take it all in.
Sometimes, we can alleviate the stress of others, help lift their mood, change their focus and perspective with a simple encouraging gesture.
An 'atta boy', small gift or token of appreciation, pat on the back, quick text/e-mail or even a handwritten note you can pop in the mail can be the best medicine that person takes all day.
The amazing thing about encouraging others around you is that you're encouraged even more as it is better to give than to receive.
After our fishing trip, I took the kids to one of our favorite local Mexican restaurants and both boys thanked me about three or four times for taking them fishing and eating out.
I took them on this trip so they would benefit from the experience, but I was the one who benefited the most.
What simple act, word or gesture can you do today to brighten the life of someone else?
Dr. Derek Taylor, DC
OFFICE HOURS
---
Monday
9:00am - 12:00pm
2:00pm - 5:00pm
---
Tuesday
2:00pm - 5:00pm
---
Wednesday
9:00am - 12:00pm
2:00pm - 5:00pm
---
Thursday
2:00pm - 5:00pm
---
Friday
9:00am - 12:00pm
---
Saturday
By Appointment Only