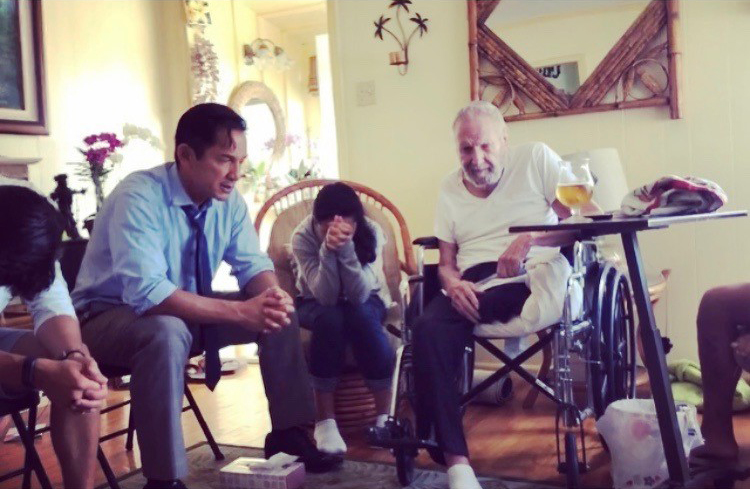 Last night, my family and I went over to my parents' house to celebrate Father's Day (see picture above).
Before we ate dinner, I gathered the family around to share what they loved and appreciated most about their "Papa" (my dad).
Many of the grandkids shared their favorite memories with their Papa that included going camping, his lessons on classical music, the stories they loved to hear, and just spending time together.
My mom then shared her appreciation for him being a good husband and was thankful for all the wonderful memories they have shared for half a century...Today is their 50th Wedding Anniversary.
When they got married on June 20, 1970, my dad was 33, my mom was 29, and I was 3.
Although I have no memories of my biological father, who died fishing at sea when I was 5 months old, my first memory of the dad who raised me was June 20, 1970.
I will never forget that day because I cried before, during, and after their wedding ceremony.
They couldn't afford a nice wedding reception, so after the ceremony they went straight on their honeymoon to Yosemite National Park.
I never knew this, but my dad shared last night that he felt so bad about how I was feeling, that he almost turned the car around to take me on his honeymoon.
As a three-year-old, I thought my mommy was being taken from me, yet little did I know that I would be gaining the greatest dad in the world.
My dad didn't make much money, but he scraped up enough to invest in a lime green Robinhood motorhome he called 'The Green Robin,' and took us camping just about every weekend.
The remarkable thing is, he never grew up camping or fishing. His dad left the family when my dad was in 5th grade, so he had to work at an early age to help support his mom and little sister.
He didn't know how to fish but we learned together.
He didn't know how to raise three boys from a different father, but he took on this great task and loved us like his own.
Besides spending so much time camping with us on weekends and two week summer vacations each year, one of the ways he showed love to us that I'm most thankful for was caring enough to discipline us.
My dad didn't put up with behavior that was unbecoming, so when got out of line we got a swift & effective spanking with the paddle followed up with telling us he loved us.
My dad always spoke his mind and always spoke the truth, which would sometimes get him in trouble but at least you always knew where you stood with him.
I'm thankful for the time my dad invested in us, and I will always look back with great fondness on the wonderful childhood I experienced and the great start he gave me in life.
If your dad is still alive today, make sure to express the love and appreciation you have for him. No dad is perfect. We all are flawed.
Honoring your dad this weekend will not only strengthen your relationship with him, but will benefit your health, and indirectly the health of the loved ones around you.
Dr. Derek 'Happy Father's Day' Taylor
---
PS - You still have time to register for Dr. T's skin clinic this Monday with just a few spots left. If you would like to try a different approach to getting rid of your moles, skin tags, seborrheic keratosis, and other unsightly skin problems without surgery or medication, then I would encourage you to pay Dr. T Oren a visit at his
Skin Clinic this Monday June 22, 2020 from 12:00pm-3:00pm.
Dr. T Oren is an MD, DC, & Nutritionist that uses a wholistic approach to getting rid of skin issues in a non-surgical, non-medical manner.
You can check out his website at www.ecopolitan.com
Call our office at 310-891-0102 or reply to this e-mail to reserve your spot to see him on Monday June 22 from 12-3pm.
OFFICE HOURS
---
Monday
9:00am - 12:00pm
2:00pm - 5:00pm
---
Tuesday
2:00pm - 5:00pm
---
Wednesday
9:00am - 12:00pm
2:00pm - 5:00pm
---
Thursday
2:00pm - 5:00pm
---
Friday
9:00am - 12:00pm
---
Saturday
By Appointment Only