A Date To Remember (& A Free Turkey)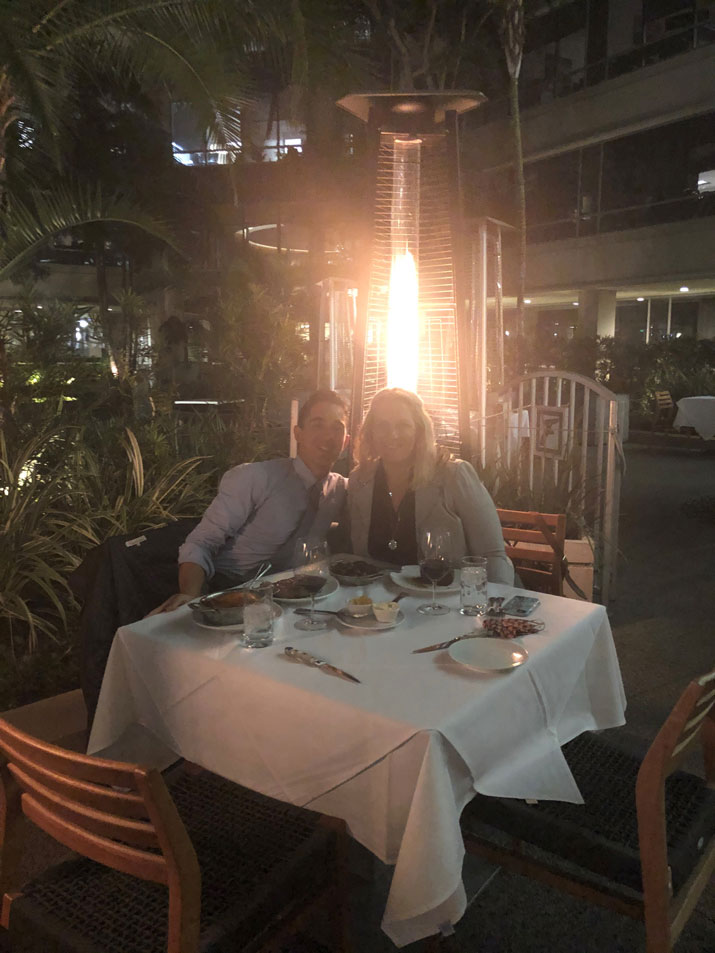 Last night, my son Hudson planned a special date with his mom at Flemings Restaurant in El Segundo.
He just wanted to connect with her and have some mom/son time before he left on his vacation to Hawaii this Saturday.
When I spoke with my wife earlier that day she was hesitant on going out because of all that is going on in the world right now, and she really just felt like being in our home with all her family together.
However, when she got home after their date, I could tell by the look on her face that it was time well spent.
She was beaming with a smile on her face from ear to ear as she told me about the wonderful time they had together.
First, she told me how most guests were sitting in a stark white tent separated by plexiglass dividers. However, she and Hudson were led by the hostess to a quiet patio garden, where the table was situated near two flaming heat lamps and nestled under beautiful green trees.
Then, she showed me pictures of the meal they shared together….
…Scalloped potatoes crusted with cheddar cheese (she rarely has dairy, so this was a real treat)
…Sauteed portobello mushrooms in a sauce that was to die for
…Medium rare with a crisp top of aged ribeye and filet mignon cooked to perfection
…A glass of red wine to stimulate the taste buds and made for a relaxed mood for the evening
In addition, the waiter said they picked a good night to come as their best chef in the restaurant happened to be working at the time who comes up with nothing short of the most exquisite dishes.
At the end of their dinnertime after talking about all the things they wanted to get caught up on, as they were sipping on a de-caf coffee (they laughed about this because neither has ever ordered a coffee after dinner), Ali said to Hudson, "Wow, honey, this evening has been such a huge highlight of the year for me, thank you!!"
Hudson replied to her, "Mom, I wanted to take you to dinner, not just to spend quality time with you, but also because I want you to know how proud I am to be your son. There have been many hardships for our family this year, and watching you go through each trial with strength and love to lead and guide me and my siblings is really amazing. You have always been there for me and words can never express how much I love and appreciate you. I just wanted to honor you tonight."
Sometimes, it is easy to slip into the slough of despond and focus on all the stressful things that are occurring in the world today.
When that happens, it is hard not to fall into a mode of fretting and complaining, which not only tends to rob you of your joy, but also affects your overall health.
One way to avoid complaining is to focus on the things you are thankful for and make sure you express that appreciation.
Life is too short not to express your appreciation for others.
I want to make sure that all my patients know and understand how much I love and appreciate them.
I am thankful for the relationships I have built with many of you over the years, which has greatly enriched my life.
I am also thankful for my patients who have trusted me and my staff the opportunity to service your health needs, when you have the choice to go somewhere else for your care.
You have given me the opportunity to do what I love doing, while being able to support my family, put food on the table, and provide for our financial needs.
I recognize that without you, Taylor Chiropractic & Laser Center would not exist, and we would have no presence in the community.
On Monday, November 23, 2020, I would like to express a small token of my appreciation by giving out a FREE TURKEY to all who make an appointment on that day.
In addition, if you have a loved one who has never been to our office, that would be a great day to have them schedule an appointment because all NEW PATIENTS that day receive an examination, report of findings, and a Class IV Laser Session for only $47.00 AND they receive a FREE TURKEY, too.
Thanks again for being such amazing patients and I hope your Tuesday is a Terrific one!
To your health,
Dr. Derek 'Gratefully Yours' Taylor
310-891-0102
www.drderektaylor.com